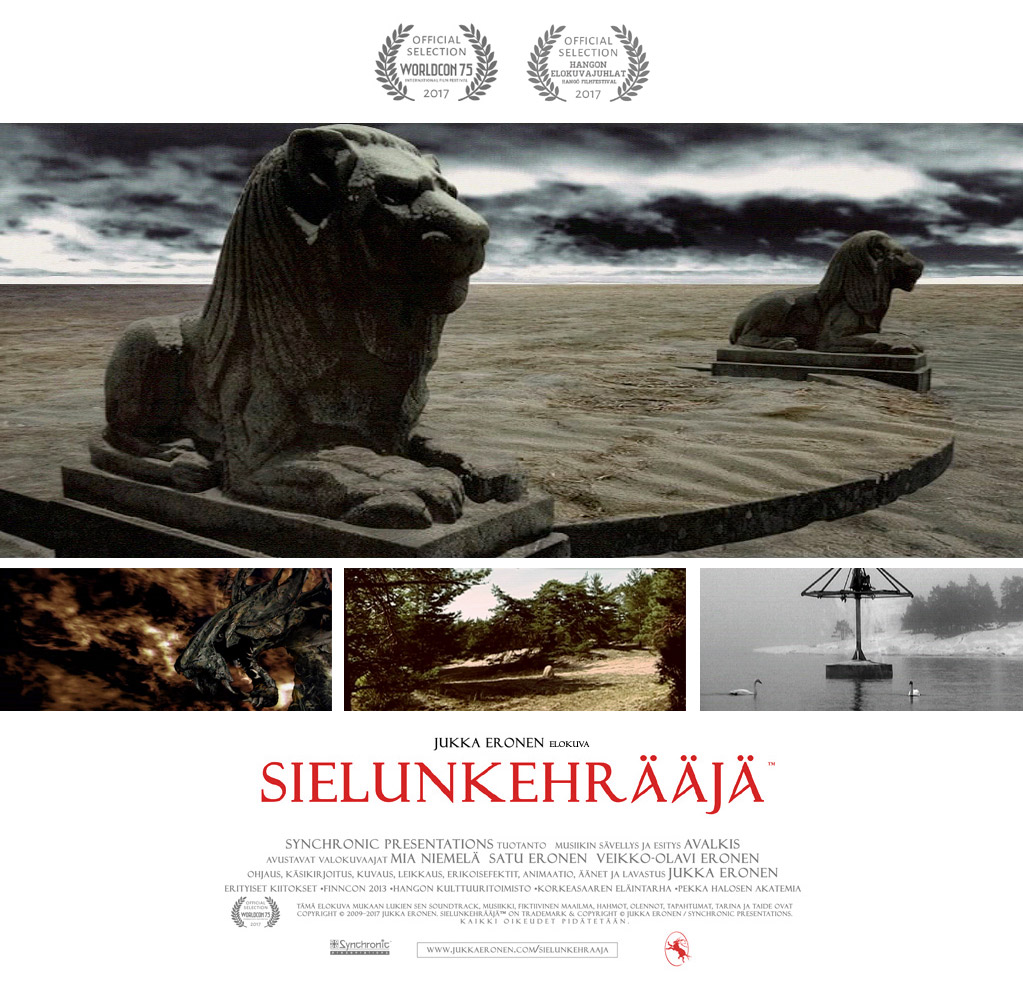 ---
Next Soulweaver: Requiem for Earth (2017) the film will be shown daily at Hanko Film Festival 2017 (Hangon Elokuvajuhlat 2017) – from October 19th – 22nd!
Kino Komissar – Hotel Bulevard. Address: Bulevardi 8, 10900 Hanko, Finland (at the same street as the Hanko's Statue of Liberty of lions shown in the poster above).
– Free entry, bar is open! Film length is 36 minutes. PG-13.
SCHEDULE *small changes can happen!*

Thursday: October 19th 17:00 – 22:00
17:00 Rakkautta & anarkiaa Shorts 18:30 Soulweaver 19:30 R&A Shorts 21:00 Soulweaver
Friday: October 20th 16:30 – 22:00
16:30 Soulweaver 17:30 R&A Shorts 19:00 Soulweaver 20:00 R&A Shorts
Saturday: October 21st 17:00 – 22:00
17:00 R&A Shorts 18:30 Soulweaver 19:30 R&A Shorts 21:00 Soulweaver
Sunday: October 22nd 14:00 – 18:00
14:00 Soulweaver 15:00 R&A Shorts 17:00 Soulweaver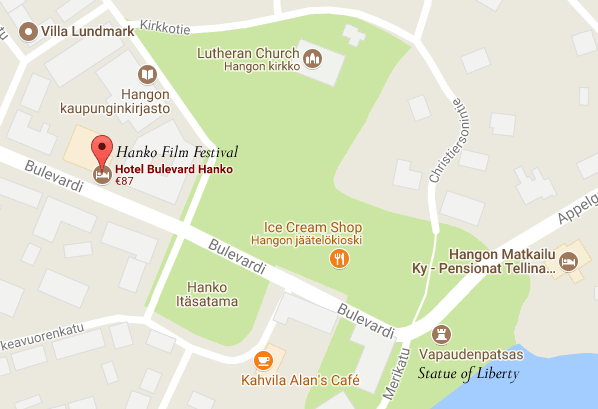 Read more about Hanko Film Festival at: https://www.facebook.com/hangonelokuvajuhlat/
"Animals of the future awaken in a memory of tomorrow"

Soulweaver (Sielunkehrääjä) is a poetic Finnish post-apocalyptic science fiction film of epic proportions. It is set in future Finland following the years 2839 – 3153. Cities of Earth are in ruins. Man is no more. New species have evolved. These are the last days of once flourishing blue Earth when an alien vessel arrives in the proximity of Earth…

Genres: Sci-Fi/fantasy/mystery/nature/drama.
Here is the Final 2017 Trailer at Youtube (2:47).
See you there, and stay tuned about Soulweaver news with this blog and:
---

Suomeksi:
Sielunkehrääjä-tieteiselokuva esitetään päivittäin Hangon Elokuvajuhlilla 2017 lokakuun 19.–22.
Vapaa pääsy, baari auki!

Kino Komissar – Hotelli Bulevard, Bulevardi 8, 10900 Hanko.
Elokuvan kesto 36 minuuttia. Kielletty alle 13 vuotiailta. Ylempänä esitysaikataulu.

Vuonna 2839 alkava tarina sijoittuu tulevaisuuden Hankoon ja Etelä-Suomeen. Itämeri on kuivunut. Tutut maamerkit kuten Vapaudenpatsaan leijonat ovat hiekan peitossa ja obeliski on kaatunut aikaa sitten. Tulevaisuuden eläimet ja uudet kehittyneet olennot elävät Maan viimeisillä elinkelpoisilla paikoilla. Kaupunkien rauniot toimivat nyt eläinten elinpaikkoina ja muistona menneestä, kun ihmistä ei enää ole. Tapahtumat alkavat kun vieras esine avaruudesta saapuu Maan läheisyyteen… Elokuvan traileri.